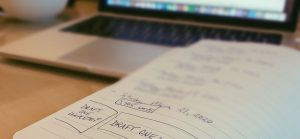 Work-in-Progress
Title: TBA
Genre: YA fantasy
Status: brainstorming & outlining
For my fifth YA fantasy book, I'm trying a few things that I've never attempted before… Find out more soon on my writing channel on YouTube or in my Instagram Stories!
---
---
Revised & Ready?
Title: Among the Gifted
Genre: YA fantasy
Status: complete
The fourth YA fantasy book I've written—and by far my favorite! Among the Gifted is complete at just over 90,000 words and is undergoing some final touches in revisions.
Pitch:
Introverted Elliana vows to be bold when she is accepted to study abroad in the world of the Gifted, but her hunger for adventure attracts more than dangerous new friendships in the shrouded hallways of the Academy Centrosa.
---
---
About My Writing
Like so many writers, my infatuation with writing goes back to my early days devouring books while snuggled up in bed twin-size bed, in the back seat of the car, or hidden in some quiet corner of the library. I wrote my first short stories before even hitting double-digits (though, let's face it, they were mostly just rip-offs of Nancy Drew), and somewhere in this blissfully happy state of creating for creation's sake, I decided that I wanted to be a writer.
When I was around 13 years old, I began writing my first novel. It was young adult (of course) and fantasy (of course). Almost as soon as the idea popped into my head, I started scribbling random notes of names, places, and things, then plunged right into the writing. I was young; I would learn.
Over the next several years, my desire to be a writer developed into a determination to become a published author, though I was only just learning what that might mean. My novel kept chugging along—growing in small increments around school work, orchestra practice, and new Nintendo DS games—until I finally wrote the last chapter around age 17. It wasn't good. I knew that already. My writing grew up with me, and the first few chapters were written like they were from a completely different (a much younger) author.
This book wasn't publishable, and it never would be. But it was special in a different way, and I will keep it and treasure it forever. It was the first time I dipped my toe into the incredible art of novel-writing! And I was hooked.
Since then, I've written a second "secret" novel (YA sci-fi/fantasy) that I plan to keep hidden away for just myself for all of eternity, as well as the more recent Legend Says. This was the first writing project that inspired me to document much of my process, through videos on my YouTube channel. I began making videos part-way through the first draft, then carried on through several rounds of revisions and even some querying to agents.
While I may revisit Legend Says soon (and I've even toyed with the idea of writing a second installment in the series), I have currently turned my focus to another project – and fallen head over heels for it!